STORM 2
V-checker H305 HUD Head Up Display OBD II Scanner Car Engine Fault Code Reader CAN Diagnostic Scan Tool
Sale price Price $53.00 Regular price $59.00 Unit price / per
The V-checker® H305 is a trip computer, logger, and real-time performance monitor. It is a useful gadget whether you are a DIY car owner or skilled mechanic. It is easy to plug in your car's OBDII port, reads data sent by car's on-board diagnostic system, detects trouble code of ECU and gives you the solution to fix it without having to take your car to the shop every time. Save money and time!
The device can be installed without changing the original vehicle cables. Just plug and the device works immediately, easy to use. 
Thanks to the unique Battery Saver technology you can rest assured that, unlike other OBD adapters, H305 won't drain your battery if you leave it plugged in.
Through the vehicle's OBD interface, the device can read the real-time data of the vehicle such as: Speed, Coolant, RPM, Fuel consumption, etc, and display the data on the glass of vehicle which will prevent looking-down during driving process and improve driving safety greatly. HUD display brightness will be adjusted automatically according to real-time environment. Bright on day-light and soft at night.
4 display modes supported.
Multiple alarms: Over-speeding alarming, Coolant temperature alarming, Drowsy driving warning, abnormal Battery voltage warning, etc.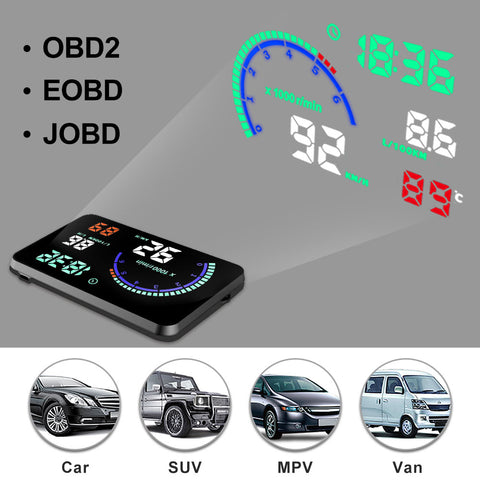 With the intelligent sensor,the device will be turned on automatically when the ignition is on and turned off after shutdown. The whole process does not require any manual operation. Therefore it is safe to leave the vehicle with the device being plugged in and it won't drain your car's battery. No worry!
Works on all 1996 US-Based, 2000 EU-Based and Asian cars, and Newer OBD II & CAN domestic or import vehicles. Vehicle Coverage: Audi, BMW, Mercedes Benz, VW, Opel, Volvo, GM, Ford, Chrysler, Toyota, Lexus, Honda, Acura, Nissan, Infiniti, Porsche, Ferrari, Polaris, Skoda, Daewoo, Dodge, Jaguar, Jeep , Land Rover, Suzuki, Mazda, Saab, Mitsubishi, Isuzu, Hyundai, Kia, Holden, Peugeot, Citroen, Renault, Fiat, Daihatsu, Chery, Geely, etc. Supported vehicle protocols: ISO15765, ISO14230, ISO9141-2.